2018 Autumn eNews
Cheerful hanging diffuser for a pleasant scent and a blessing day ????

AROMATE Supports 3Rs of Sustainability and Circular Economy
As the grand opening of Aromate Wonderland in 2017, this Taiwan's 1st fragrance tour factory combines education, social responsibility, and eco friendly green building, obtained high public awareness. In the meantime, Aromate joined the CSR program, completed the corporate social responsibility report and greenhouse gas examination.

[SGS Assurance Statement]
We've started product design in 3Rs concept :
• Reduce using materials damage to environment
• Reuse recycled papers and wood fibers
• Recyclable to develop a good product life cycle
We aim to be an eco friendly sustainable green enterprise.

Sincerely,
Jane Huang,
General Manager of Aromate
Eric Chu, Mayor of New Taipei City visited Aromate

Aromate's Great Success at 2018 automechanika Frankfurt

| | | | | |
| --- | --- | --- | --- | --- |
| Aromate at automechanika 2018 | | Membrane Air Freshener Wall | | "Have A Nice Day" Hanging Diffuser |
Aromate presented its new air freshener products in this leading automotive trade fair. More than 133,000 professional visitors from 170 countries attended the show. We've had delightful meetings with customers and got great responses from them. The wall of colorful membrance fresheners surely attracted lots of visitors' attention. It is the Have A Nice Day hanging diffuser. The cheerful and compact design to hang in car or anywhere for a pleasant scent and a blessing day!
see more of Car Freshener Collection


Essential Oil For Car
You can now enjoy all the benefits of essential oil on the move !
• Natural essential oil
• Adjustable cap for fragrance control
• Long lasting up to 60 days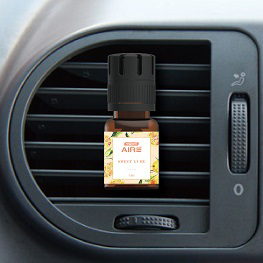 Scented Oil Kit

• Vent mount air freshener that effectively freshen up your car
• Cost effective 1+1 value pack with extra refill
• Unique structural design to avoid leaking or falling apart
• Large capacity wick of long lasting up to 60 days

September 5, 2018 - ECHA News Release

Public consultation on 18 substances proposed for authorisation under REACH. The substances proposed to be recommended, including examples of their uses in the scope of
authorisation, are presented in the table.
Original news

Air Care market in China
Sales of Air Care by Category Share 2017

Sales Growth • Air care records 7% current value growth, reaching USD 189.6 millions in 2017
• Spray/Aerosol air fresheners remains the most popular air care area in China. The next are gel, car fresheners, and deodorizers.
• Shanghai Johnson retains leading position in air care with a 33% value share in 2017


Sales Growth of Air Care by Category 2012-2017

Future Trend

• Rapid growth of private cars in China boosts growth of car air fresheners

• High growth of 18.2% CAGR in car air fresheners

• Air care expected a value CAGR of 3% at constant 2017 prices over the forecast, with sales reaching USD 195.3 millions.
Aromate Won New Taipei Gifts Award

Taipei Gifts Award Ceremony 2018 with Eric Chu, Mayor of New Taipei City




Aromate in Ceramics Museum

Royal Collection in Yingge Ceramics Museum


It was an honor that our Royal Collection porcelain reed diffuser won the 2018 New Taipei Gifts Award. Royal Collection is

the elegant porcelain with deluxe fragrance. It is a piece of artwork, and furthermore the art of scent. Royal Collection is as well presented in the famous Yingge Ceramics Museum for display and sale.



Visit us at AAPEX 2018 Las Vegas

About AROMATE
Aromate Industries Co., Ltd. (Aromate) is an Asian leading manufacturer of innovative air fresheners and home fragrance products. Founded in 1996, Aromate set up the headquarters and modernized production facility in Taipei, Taiwan. With a strong insistence on quality product, ongoing technology innovation, experienced international source integration, and sustainable sales and marketing support, Aromate can be your trusted air freshener provider and partner. For more information, visit Aromate website or mail to inquiry@aromate.com